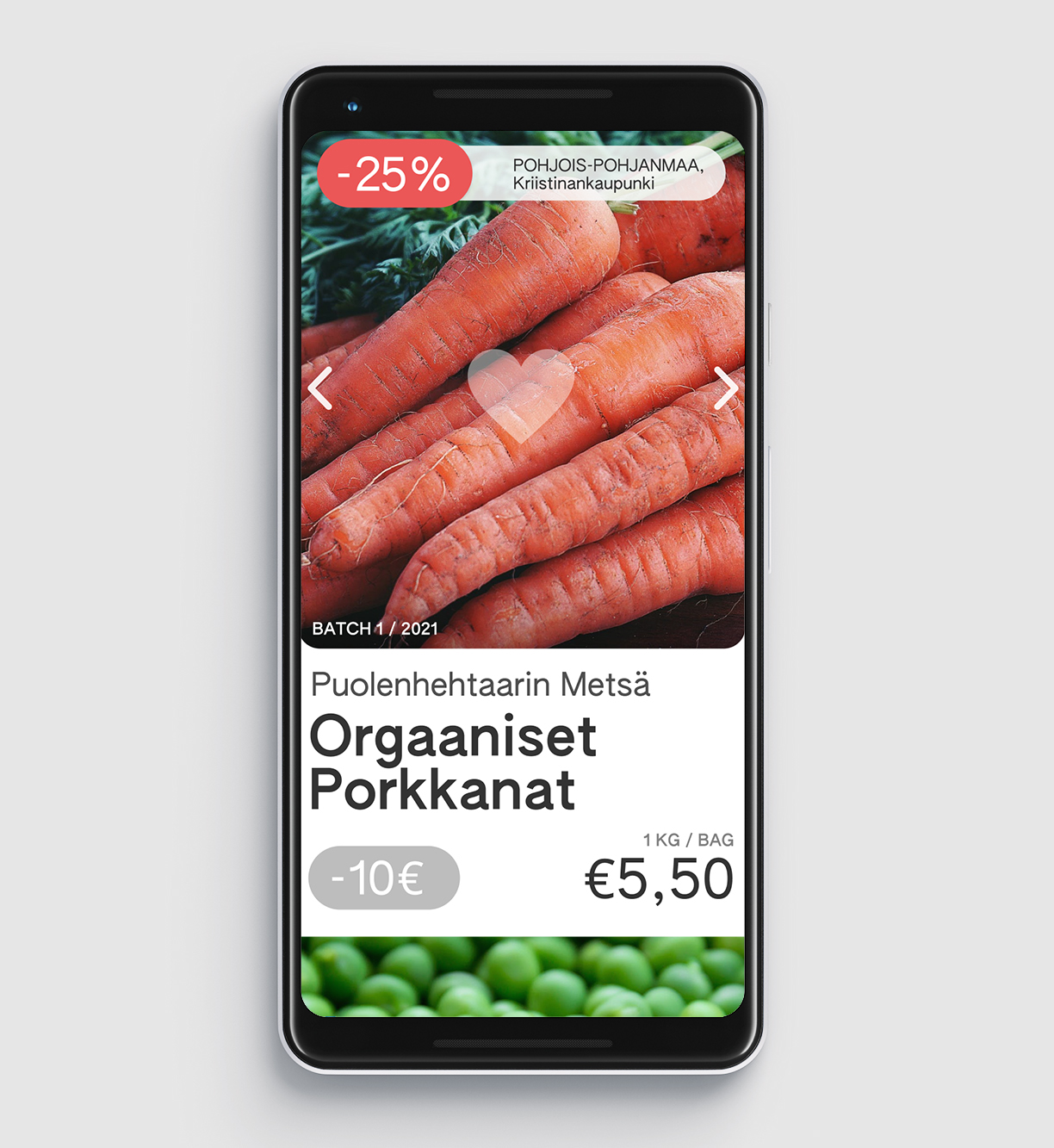 Korjuu - An ethically produced, high quality local food ecosystem, 2021, Helsinki (FI)


Korjuu is platform for ethically produced, high-quality local food. Korjuu aims at creating a healthy and efficient food ecosystem that reduces data fragmentation among actors and increases supply chain transparency through temporarily free-to-use services. Users can register either by creating new profiles or by logging in via Facebook. The platform has many innovative features to explore: products can be ordered and picked up either directly by the producer or from registered food venues. You can register as a participant in events or create your own. You can also join groups and participate in purchases, discussions, read, and write blog posts. As a producer, you can add an organization, products, product batches with different expiration dates, etc. You can further discuss about customized services by email on info@korjuu.com. The following work showcases Korjuu's UI/UX card development both for desktop and mobile platforms:

Color



• Not always the higher contrast works better, in some ways it can actually be harder for the eyes.
• Black on white vs shade of grey.
• Dark grey as opposed to pure black.
• Calculate the right amount of contrast on different screen formats.
• Color calibration on the designer's monitor could appear slightly lighter or darker than on the user's.
• It's especially important have enough contrast on mobile, where users might be outdoors in bright spaces, or even moving while performing an action.
• Pure black text can cause more eye fatigue over long periods of time and can be more difficult to read for individuals with reading disorders (such as dyslexia).
• It's important to test color legibility with real users in natural environments and on every possible device.
Font selection
Take into consideration Open Source or collaborative fonts like Google fonts: Work Sans, Source Sans, Chivo.

Authentic Sans: varied weights like version 60, 90, 130, and 150.

Consider premium typefaces from different platforms depending on budget, such as Type Network and oder foundries.
OpenType formats (OTF, TTF) are cross-platform compatible, supporting widely expanded character sets and layout features.

Ensure glyphs / set of symbols can be displayed on different languages.
Test outline font formats on different browsers and devices.
Legibility


The size and layout of the text can influence the user's online reading experience.
Bear in mind individuals with visual difficulties, who might struggle reading a small text.
eye fatigue can be experienced by people with perfect vision when staring at screens for a long time
Important to design quick and dynamic user flows across different layers of information and screen levels.
Desktop fonts: Good readable body text: between 50-75 characters per line / 16 pt font.

Mobile fonts: Small fonts on bright screen can be difficult to read. Use around 30 characters per line for mobile.


Make sure the fonts allow to match the user's needs and experience and the product's business goals.



UI-Visual Design
Emphasize the details of the visual language.
Elevate the hierarchy structure of the card.
Color selection (create color system/primary ones).
Use clear and simple fonts: Authentic Sans.
Apply alignment, spacing, text size and contrast from the background.
Make the card look clickable with small interactions.
Do not use inline links – the card itself is a link.
Use light shadowing to give cards a more realistic impression.
How many cards do we display in a row?
Set an intentional height and width of the cards.
Make it easy to read, to learn about a product, to purchase.

Multi-platform prototyping (Desktop / Mobile)
Web pages that have horizontal cards, or mobile devices that have vertical cards are easy to read.

A card UI design on a website can help users easily navigate through various product categories.

Social media sites apply card UI designs as it makes content easy to scroll.

Card UI designs work well for many web or app pages and have multiple uses: they can display image galleries, textual content, downloadables, audio libraries, videos and many more.

Card UI designs are responsive. They facilitate responsive design.

They fit in any grid system
Information Architecture
The layout provide organization to the visual interface, which is designed according the user's needs.

Provides relevant data, remove noise and set specific purpose: small cards, large cards, cards with avatars, cards with thumbnails, cards that link to a product detail page, cards with status, cards with metrics (number of times shared, or saved).

How much information do I need? How can I use interaction? Hover state to display more information, select the card to go to a larger detail or page, set an intentional behaviour.

Select one size for desktop and one size for mobile: they could have a variable width depending on the responsiveness of the environment.